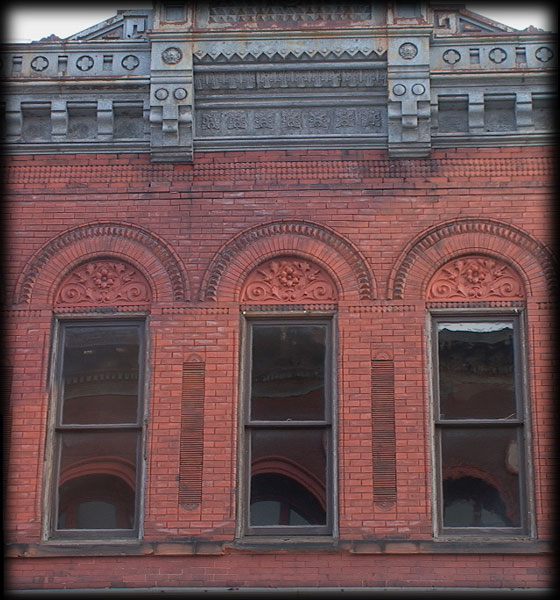 Today we take a closer look at the facades of two buildings along 5th Street, starting first with the Rowe Furniture Building. While this building's cornice and pediment are still intact, there is no name evident along either one. So for now this building takes its name from its current occupant – Rowe Furniture. What's most interesting about this facade – and you can see a bit of it for yourself in the photo above – is its very large and domineering cornice along its top. This is by far one of the largest I have seen along 5th street and would seem to suggest a building of great importance at one time.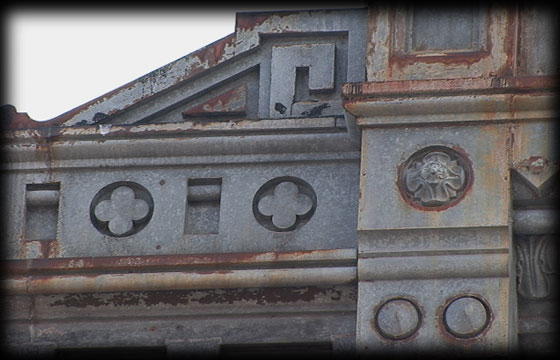 Here's a closer look at the cornice in question. To me these grooved circles and crosses make for a very gothic looking detail. Also interesting is what appears to be a good deal of rust. I had thought that these pre-fabricated cornices were stamped out of tin, but its gray color and apparent rust would seem to suggest this is some other type of metal. (as I thought tin was not susceptible to corrosion). Of course the coloring could also be some type of oxidation or other weathering that tin is susceptible to. Check out the Big Picture to see for yourself.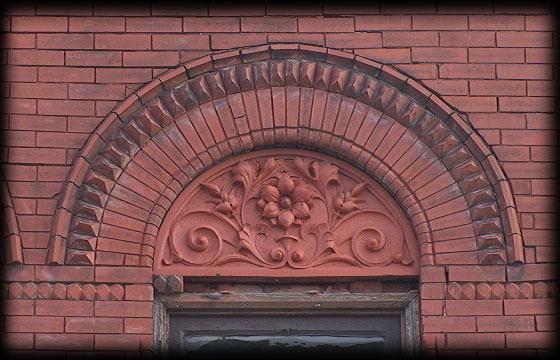 Before moving on to the second building of the day, here's another closer look. This time we take a look at the decorative arches above the second floor windows. These are identical for each window.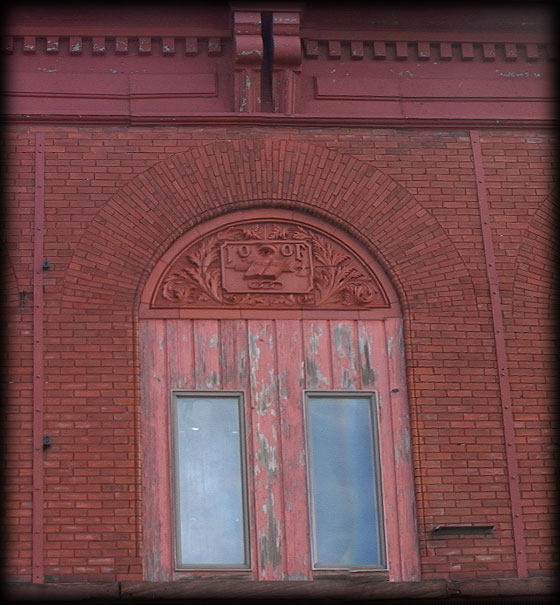 Our second building facade for the day is the old Calumet Drug building, which is now vacant. While most of these buildings' second floors normally held apartments – this one didn't. These large double sized windows which span this second floor facade (three in total) would suggest this second floor was used for something requiring a little bit more light then simply an apartment. At first I thought the floor was used for retail space, specially considering its more recent use as the home to a arts and crafts store. But taking a closer look at the decorative elements above the windows reveals its true purpose.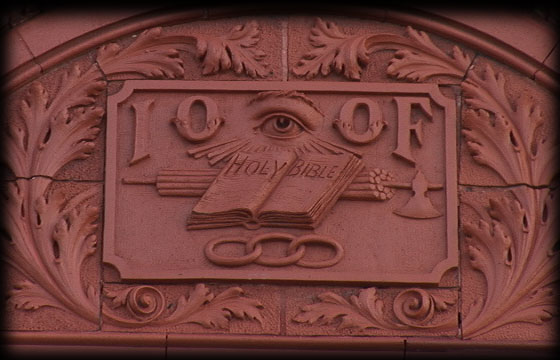 This placard clearly marks this floor as a large meeting hall, and the building itself as a Independent Order of Odd Fellows Lodge thanks to the initials IOOF. This building most of been the fraternal order's second home, since they originally shared the Union Building with the Free Masons. The IOOF is also known as the "Three Links Fraternity" which refers to the three founding principles (links) of Friendship, Love, and Truth. The three-link chain seen on this decoration refers to those principles. As for the rest of the symbolism, I believe the bible refers to "truth" and the eye is the all seeing eye symbol synonymous with the Free Masons (and also found on a dollar bill).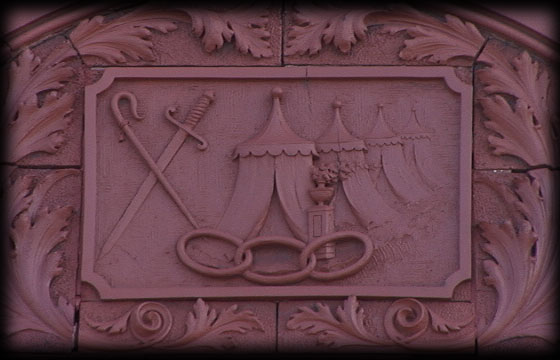 Over the second window sits this placard. The three link symbol is still present, as well as an "encampment" symbol which is used heavily in IOOF lodges. (the bad coloring is my fault. It should look more red like in the previous pic)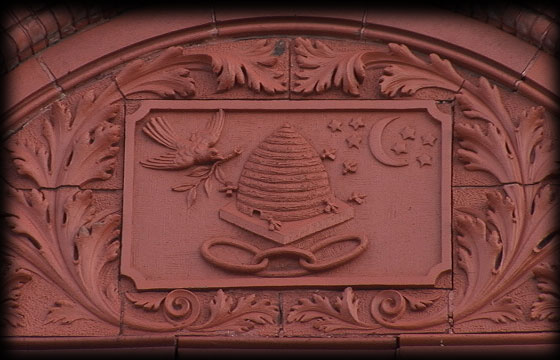 Over the third window is this placard, which also sports the three link imagery. This bee-hive symbol is believed to represent industry, in terms of grand construction projects such as pyramids or large buildings. It is also used heavily on IOOF buildings.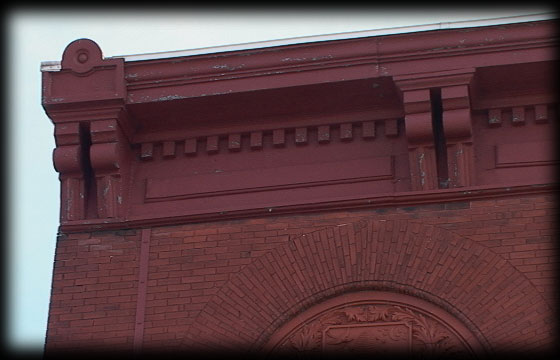 Before moving on, a look at the cornice for this building as well.
The Independent Order of Odd Fellows is still around, you can check out their website HERE
Next: The JC Penny Building…