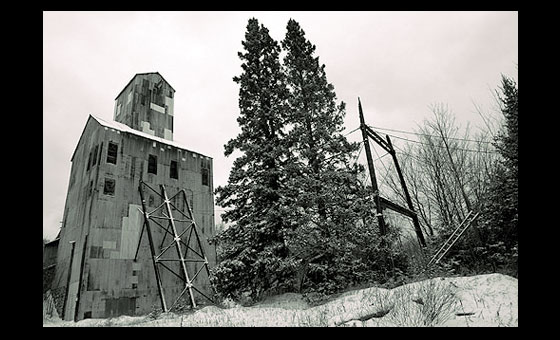 While my daily posting have ceased for the time being, I still am trying to add new material at least once a week to keep the site limping along. Towards that end I bring you today's post. First a little background. Yesterday I had received an email from someone I had went to college with who – like most of us Tech grads – was bitten by the Copper Country bug. While out of the area now, she still returns from time to time to document the ruins and history of this fascinating place. Her B&W photographs of many places I have featured here on Explorer – and others I have yet to feature – offer an interesting counterpoint to the images I present here on a daily basis. (well, use to present on a daily basics) I think you will find them as interesting as I did.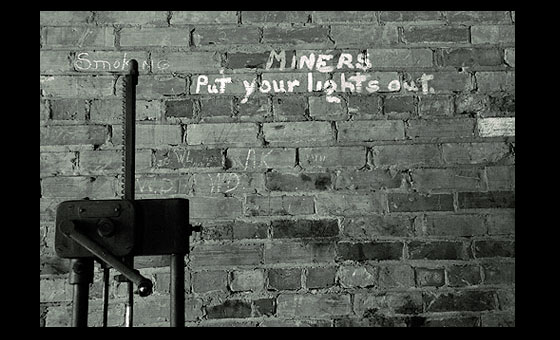 This first series of photos are a portpourri of mines sites across the peninsula. here you find the familiar – Quincy, Champion, Centennial – as well as some more rare views like the one above. This is from inside the oil house at Champion, a place I photographed but not from this perspective. These hand-painted warnings on the wall warn miners to put out their lights, a smart move considering a large tub of oil sits below them. View the ALBUM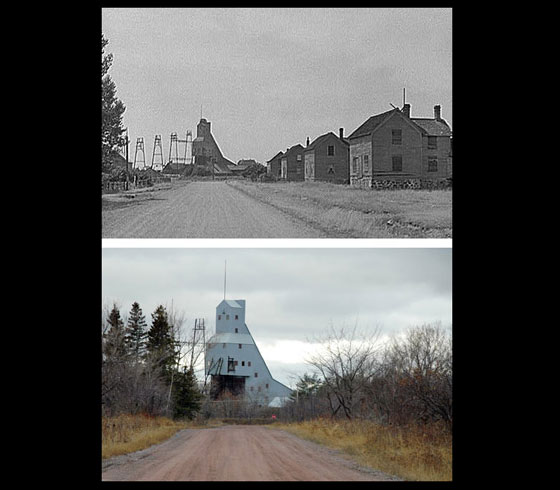 The second series is something I have been trying to create myself for some time now. Its an interesting before and after look, similar to my Then and Now series I have put up from time to time. My plan was to recreate old photos with new photos showing what that same place looked like today. While not all of these images are spot on, most are very close such as this one above of Lower Pewabic at Quincy. This provide a fascinating perspective, and are fund to check out. View the ALBUM.
My thanks to Olivia for sharing her great photos. Its sure easier to write these posts when someone else does all the work, so easy I think I'll try to do it some more. If anyone else has some photos of ruins (and I know a few of you do) and care to share, drop me an email and let me know. I'll share your work here on this site so everyone can enjoy. Until later…