CC Explorer – The Early Months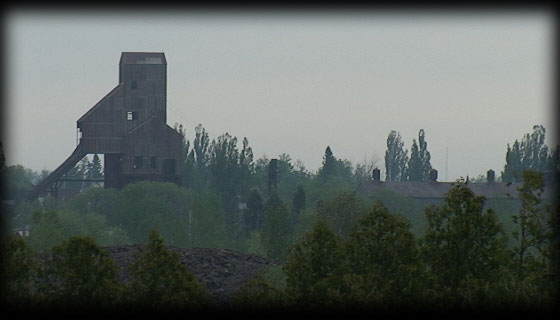 As you all have no doubt read by now, today marks the 365th day of Copper Country Explorer. To mark this important milestone, today I thought I'd take a little trip back over the year and provide some behind-the-scenes insight into the explorations taken and sights seen along the way. This site is a combination of a lot of trial and error, and today I'll let you in on a little bit of that process – as interesting as that could possible be.
We start with the opening photo above of the Osceola #13. This was taken during our Osceola expedition, where we discovered how close to town copper country ruins could possible be. While we posted these photos in August, the actually exploration occurred in the spring (thus the overly green hues). For a while (up until recently) I had stored up a great deal of explorations in advance before posting them. By this time last year we had actually been exploring since early spring.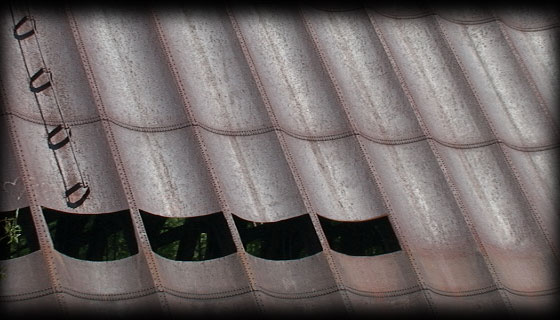 Not including the Cliff Mine (which technically would be our first excursion), we had 6 sites under our belt by the time the site begun. These were (in order): Osceola, Q&TL RR, Boston (never used), Redridge Dam (seen above), St. Louis Mine (site of abandoned trolley car), North Kearsarge (not used until spring of this year!), and Copper Falls. I picked Osceola because it was the weakest in terms of the amount of photos and remains – figuring no one was going to be reading it anyway. This inferiority lead us to revisit and re-document much of the site just recently.

While our coverage of the Q&TL Railroad would be the weakest in terms of photos, it did provide this gem. The first ever panoramic photo taken on an excursion. (although not the first published, that honor goes to the Copper Falls Lookout) Its success would spur a tradition that has become CC Explorer's signature offering and our most popular type of post. At the time I remember just "trying something different".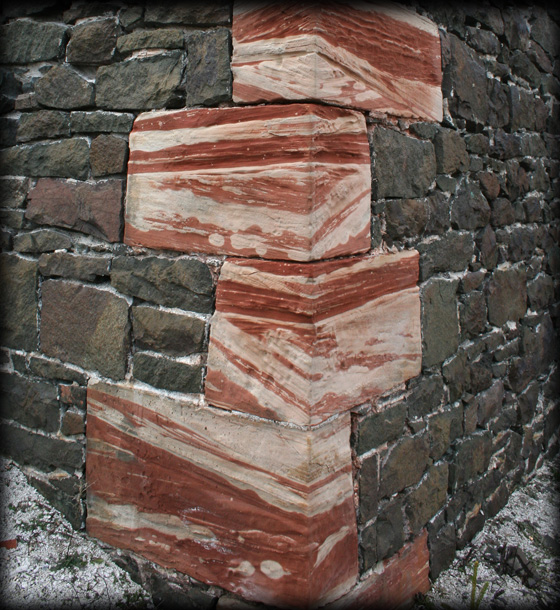 In the beginning I had a cool (at least I thought so at the time) idea for a series of posts that I could do every month called Scavenger Hunt. The idea was innocent enough, post a photo from somewhere out in the Keweenaw and have people take a picture of the same thing and send it to me (to prove they found it). Then the person with the most right answers would win a prize. I even started it with this beauty (which is from the Champion Mill at Freda by the way) and then posted at least one more the following month. Then it dawned on me that people might get injured while looking for these things and then might decide to sue me. So I dropped it. Even though I don't mention it on my site anywhere else (except for on this post now) you can still run across these (and a few other oddities) if you look through the site post-by-post.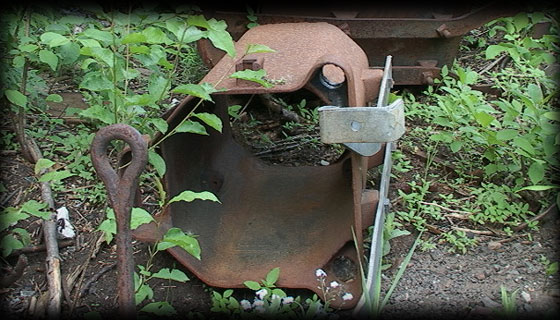 Speaking of bad coverage – this was the only photo I had for the Q&TL RR post about the derailed cars in the woods. For some reason I never thought to get a photo of, oh I don't know, the DERAILED CARS! So I used this photo, which isn't even anywhere near the derailed cars. In fact, I don't even known where the heck this photo is from. To try to make up for it I drew a little scetch of the derailed cars, which turned out to just be a pair of rectangles with "derailed cars" written on it. Lucky for you guys I just recently went back and gave those cars the proper treatment and will bring you those photos in the next few weeks.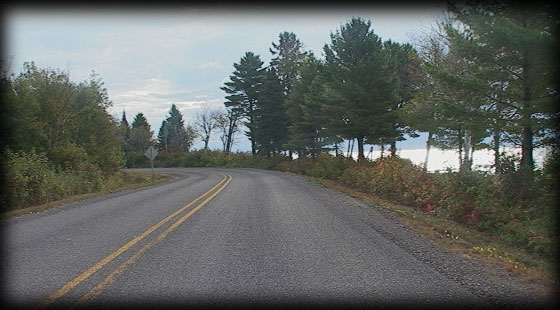 By early fall my kid went back to school, and we were free to start biking again. Towards that end, I decided to start featuring trails on the site. The idea was simple enough, just bike a trail and report its conditions. Sounds great, except BORING. while we did a few here in the beginning, future installments became far and in between. (I think the Hungarian Falls Loop was the last one). Although I still want to feature trails in the future, I need to come up with something better. (say, less BORING)

Best. Panoramic. Ever. (At least it's my favorite) Taken from atop the Objibway Mine rock pile just as the sun peaked out from behind the clouds. Then just as quickly that same sun went away and it started snowing. Ah Keweenaw weather.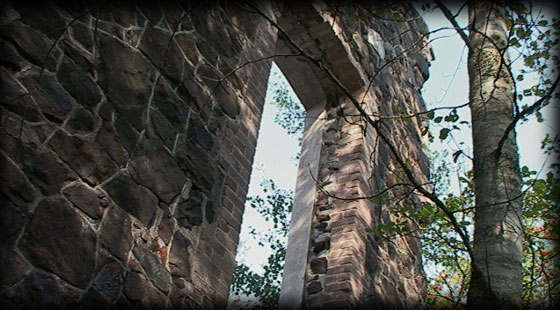 Here we were into fall when I started noticing patterns in the ruins we were finding. Copper Mines are nothing if not predictable, and through months of exploring we started to know what to look for, and where to look for it. Find poor rock pile (check), look nearby for rock house ruins (check), turn left to see shaft house (check), follow cable stand footings to engine house (check), make notice of classic "H" shape (check)… I could go on for days. While good in the sense we now had a better idea of what we were finding, it was bad in the sense that alot of the mystery and awe was gone.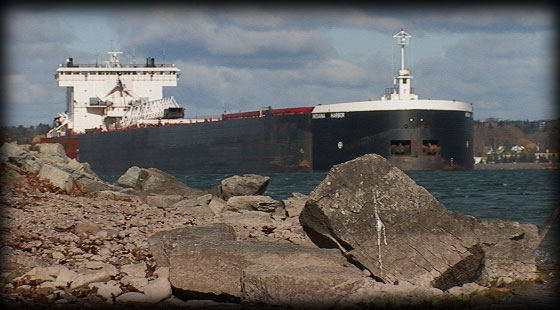 Copper Country Explorer takes a vacation. Heading out to the Soo (Sault Ste. Marie that is) on vacation and CC Explorer follows along. Got in some boat pics and videos, then posted them on the site when I returned. Someday I hope to have more, but since boats don't come around these parts much – it's probably going to be far and in between.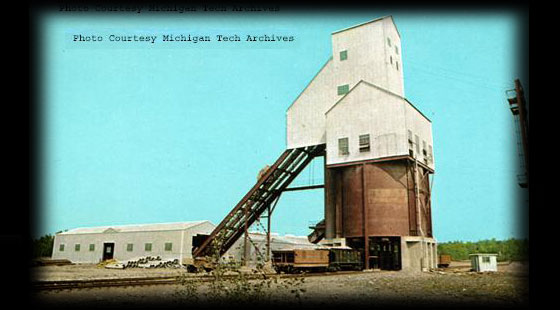 And then I discovered this really great site call the Keweenaw Digital Archives, run by the Michigan Tech Archives. For some time unbeknownst to me, they had been uploading their large collection of archive photographs to an online gallery. A gallery that was searchable, and had photos I could use. After getting permission from them to use their low-resolution images, I started to add them to my posts – filling in some historical reference when needed. They have been a great addition and have helped create a much more interesting site. Thanks to the Michigan Tech Archives.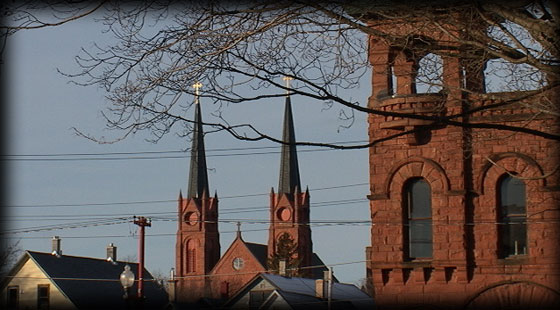 And here we come to yet another tried, but ultimately scrapped idea. This one was "Copper Country Window", an obvious homage to the Pasty Cam. The catch was that these photos would be taken that day, sort of a "live" shot into the Copper Country each day. I posted a shot for a good week or two before I dropped it. (one post a day is hard enough for me to keep up with) You can still find these by going through post by post.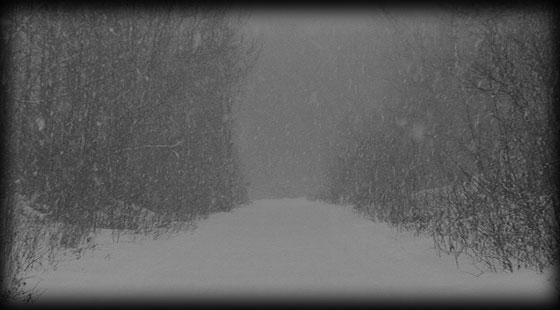 And then came the snow. After taking a good three months off waiting for enough snow to fall to snowshoe (which remarkably didn't happen until January if you can believe it), we went on our first snowshoe exploration. In the process I fell and broke my camera. (note to all: climbing ruins in snowshoes = very difficult to near impossible). Also due to the fact that everything was covered by a few feet of snow – we didn't do this many more times. Because of this we tend to stock up on explorations just before winter so we have enough to ration off for the next six months.
Well I think thats enough "remembering" for one year. Tomorrow we'll get back to some exploring – so stay tuned!