I decided to take a time out from the normal routine of this site to mark a milestone. Tomorrow marks the 365th day of my daily exploration into the Copper Country, a milestone I owe mostly to you – my readers. It was July 31 of last year that I posted my first first journal entry, an inquisitive look at a series of ruins at Osceola that I thought might have been the Osceola Depot (It wasn't by the way). Those early posts were much different in style and content then what you may be accustomed to today. Very spartan in terms of photos, these early posts were full of a large amount of guesswork to what we were finding. The Copper Country was relatively knew and fresh to us, and we were finding things every day that we had never seen before. Back in those days finding a partially collapsed rock wall was excitement in itself.
We've come a long way since those early days. Slowly but surely we have gained readers, rising from only a few a day to nearly 5,000 a month. We still have a ways to go, but I'm happy with the success so far. I'm always amazed by the amount of people that share my love for the Copper Country and the unquenchable need to explore it. To all of you I thank you for your continued support, comments, assistance, and words of encouragement. It's all much appreciated. I could never do it without you.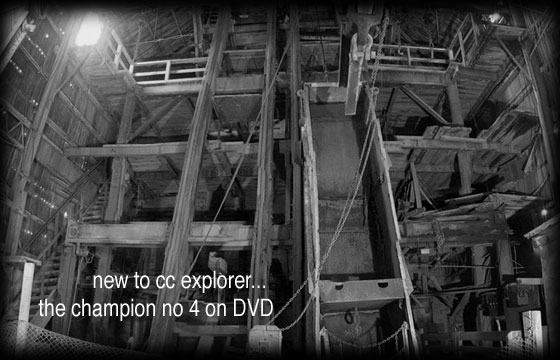 I plan to take some bold moves in the next few months, hoping to increase the sites exposure and reader's base while delivering a much richer and interactive experience. Some of these additions include a interactive map-based browse system, more researched articles and editorials, and the addition of other Copper Country Explorer media. While some of these will take some time to implement, one of them is already here today – our first Copper Country Explorer DVD.
The Champion No. 4 DVD is the result of a unique partnership between CC Explorer and Painesdale Mine & Shaft, bringing you the most detailed and extensive tour of the No. 4 shaft-rockhouse ever attempted. Over two months in the making it is sure to be the most unique and interactive DVD ever produced about the Copper Country. Take a closer look by clicking on the link in the sidebar. If your interested, pre-order your copy today. Its a great way to show your support for the work we do here at Explorer while getting a great DVD in the process. If successful, we plan to author more DVD's featuring more interesting sites across the Copper Country in the future.
Thanks again for the support, and keep on stopping by. We have lot's of interesting explorations coming up, including the Quincy and Central Stamp Mills, a revisit of the Q&TL RR (with more photos this time), and a photo tour of Calumet architecture. But first thing, tomorrow we'll mark our year anniversary with a look back at a year's worth of explorations. Until then!