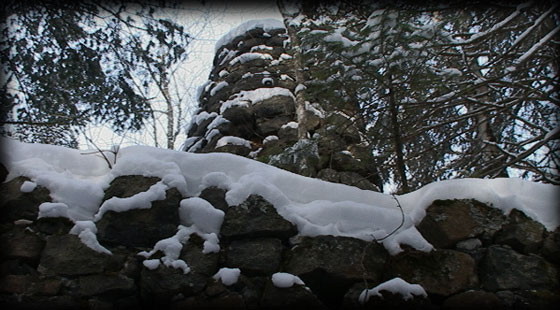 Sitting directly next door to the 150 year old smokestack, sat a 150 year old free standing wall also made from poor rock. This was part of a larger ruin – a foundation of what was most likely a boiler house. The wall in front of us was a good couple feet above our heads, the corner sitting at a well defined 90 degree angle. It looked as if it might have been built just last week, and not by men using primitive tools over a century and a half ago. (View Panoramic)
Directly next to the smokestack was a large hole. This once was the flu opening, since there were remnants on its edges of the semi-circle brick opening that also exists in the smokestack. The brick arch had long collapsed, taking a good chunk of the wall above it. Now we ducked through easily, entering the inside of the ruin.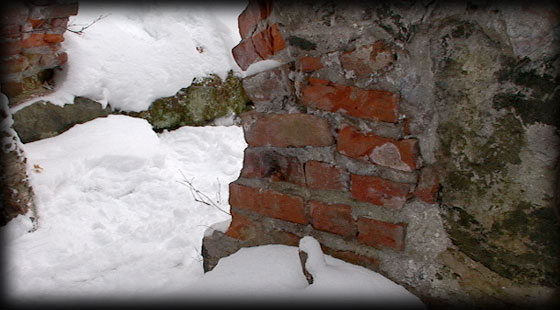 The building was not very wide, perhaps only a dozen feet or so. There was a raised platform on one side, but we couldn't tell if it was built that way or it was just a natural raise in the ground. The building was long, however, probably a good 30 feet or more. On the far end the wall was broken again. This time, however, it seemed to have been near an old doorway. Beyond the opening sat another poor rock wall.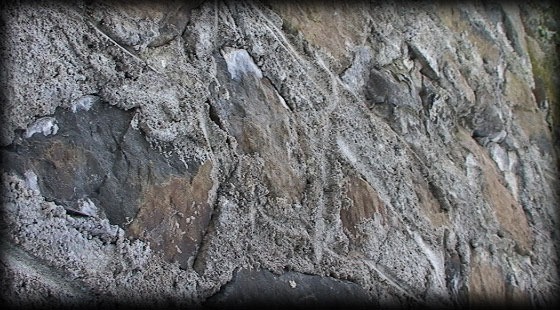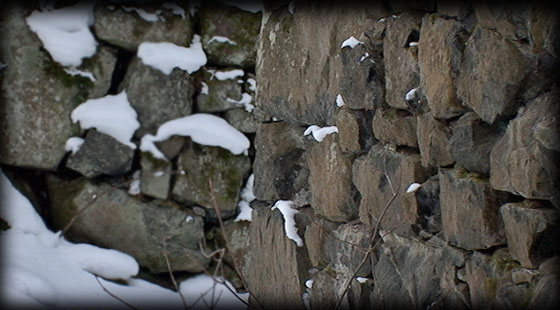 There was a good amount of trees growing inside, and a lot of fallen and dead trees as well littered the ground. The walls rose high above our heads, and there was no evidence of windows or other openings. We were probably standing in a basement, the rest of the building built above our heads. (View Panoramic #2) With nothing else of interest to see, we made our way back out through the opposite end of the ruin.
We looked around for other ruins nearby, but couldn't find anything. There was most likely more of the North American to discover, but for now we would have to move on and save it for another day (preferably in the spring or summer)