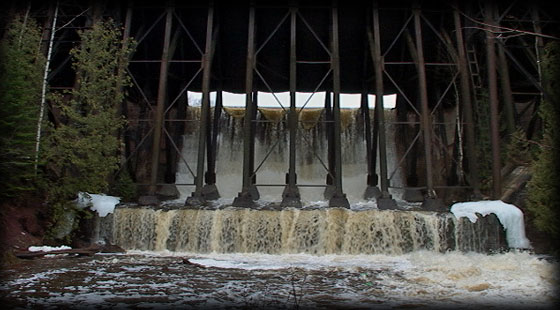 The dangers that a spring thaw once meant for the Redridge dam included the possibility of a dangerous over-topping. The water level in the reservoir would get so high as to flow over the top of the superstructure itself, spilling down onto the dam's foundation and threatening to wash away the entire structure. When this same scenario happened in the 60's, the owners of the dam cut large holes into it in order to keep this from happening again. In the process however, they managed to make the situation just as bad. Now during spring thaw water flows through these holes and over the top of the dam's foundation, slowly eroding away the concrete foundation. Perhaps the danger of a catastrophic failure was eliminated, but in the process the dam's future was forsaken one spring thaw at a time. See the Big Picture >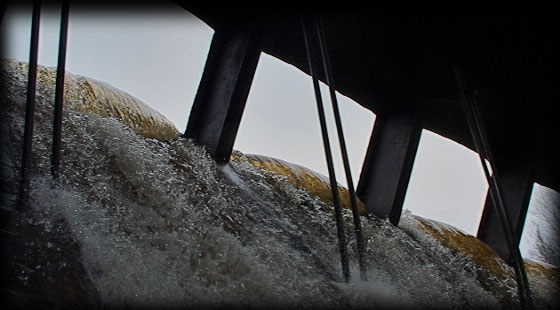 The problem starts here, at the series of holes cut into the superstructure. Normally water is discharged through the dam's own discharge pipes located at the base of its foundation. In high water, like springtime, these pipes can't keep up with the flow. The water then flows through here, down onto the dam's foundation and over its support structure. You can see some of the damage here, the second pair of metal rods (in the middle of the photo) have already bent due to the water pressure.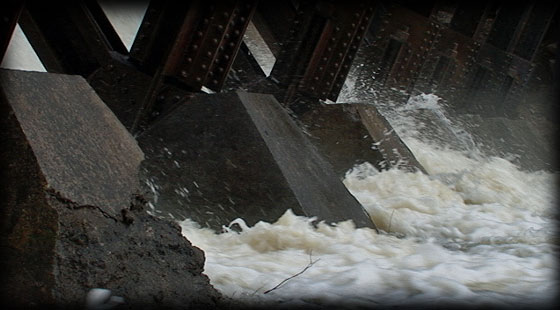 The torrent of water slides down the concrete foundation then slams into these support pilings. As you can see from the first piling on the left, they are quickly eroding away as is the foundation they sit on. Under the waterfall sits the discharge pipe shut-off valves, which take the brunt of the flow.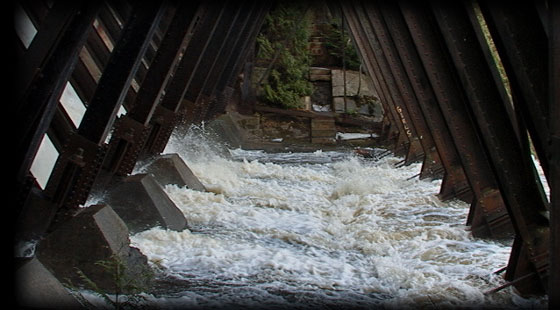 The waterfall moves between the two main support columns which hold the dam upright. Across the way you can see the other side of the dam, as well as some damage to the stairs and concrete footings on that side. These girders hold up the largest portion of the dam which stands over 70 feet above our heads.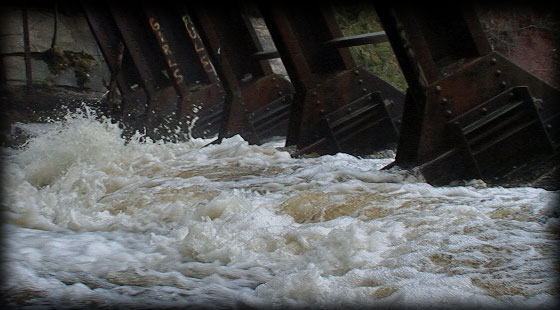 Before falling off the foundation and into the river below, the spring flow first slams into the second row of supports. These six supports bear most of the dam's weight in this middle section. These have faired somewhat better then their cousins further upstream since most of the water's energy was dissipated on them.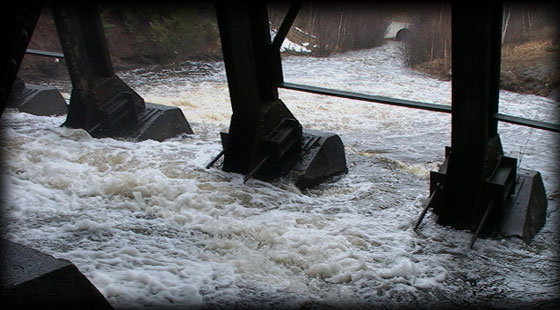 Past these lies a drop of a couple of feet off the foundation to the river below. The discharge pipe outlets are underwater at this point. Far beyond you can see the culvert under the road that the river runs on its way to Lake Superior.