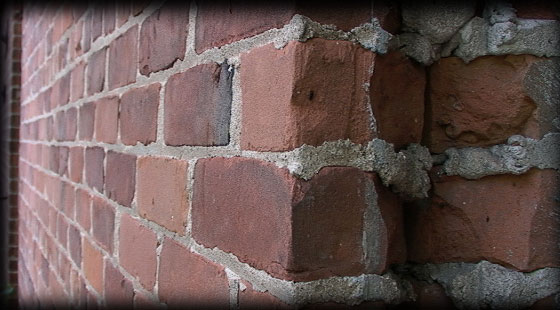 When mines were first built along the Keweenaw it was done with materials that could be commonly found within the Peninsula itself. The large distances separating it with the rest of the industrialized world and the lack of mass transportation routes to deliver needed supplies to its shores, the Copper Country had to make do with what it had. Before the advent of poured concrete, this meant a reliance on materials that could be manufactured locally.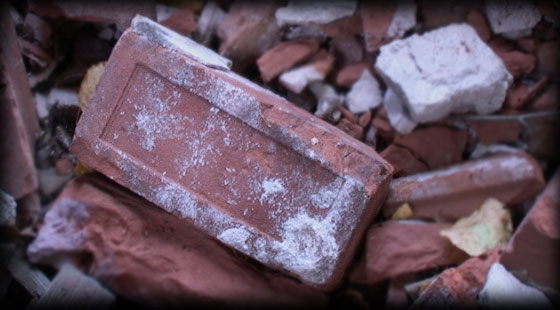 One of these common materials found throughout ruins here in the Copper Country is the brick. Bricks are made from mud and can be manufactured almost anywhere. Numerous brick manufacturers were sure to have been in operation for decades, supplying bricks to local building projects via horse drawn carriage or in later years by rail. While prevalent across the region, the use of bricks in building construction seems to have been focused on a few specific applications.
One of their more common uses was in hoist building construction, specifically in the construction of the pedestals used to support the hoists themselves. At Osceola (and now North Kearsarge) they often form the "H" shape pedestals we have come to expect, usually several layers thick on all sides. Most likely the bricks were better apt to withstand heavier loads then poor rock or sandstone, as evidenced by their use as pavers in Calumet and elsewhere.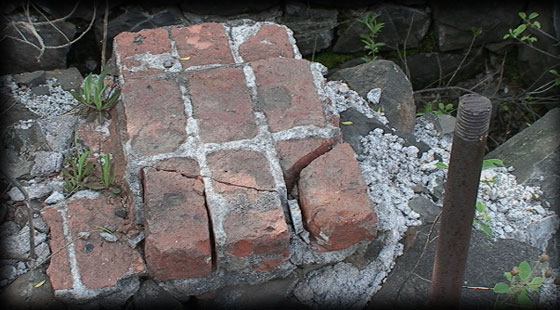 A second use seems to be in high temperature areas, such as the lining of furnaces or smokestack flues. Brick has a high thermal reflectance, and is good at withstanding large amounts of heat. Often smokestack openings at the ground are lined with brick, usually in a classic hearth-looking alignment. The large sweeping arch found at Cole's Creek is a prime example.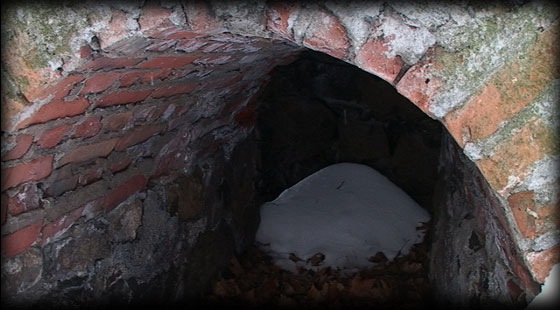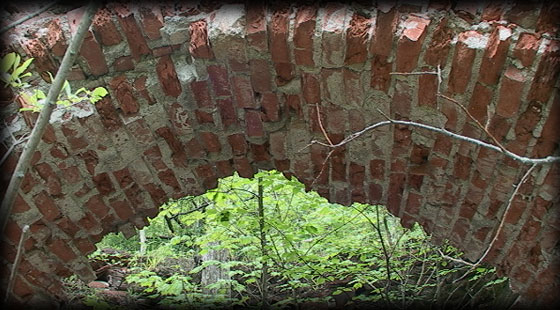 A last way brick was used in mine building construction was as a trim element in poor rock masonry. In various buildings we have found – including those at Arcadian and Quincy – bricks are often used to line window and door openings, as well as to form outside corners. The sills of windows are often lined with bricks and the classic arched window look seen along many buildings is due to a brick arch at the window's top. As far as its use in corners of buildings, bricks were probably much easier in forming right angles then oddly shaped poor rock. (until more mastered masons found their way to the area that is)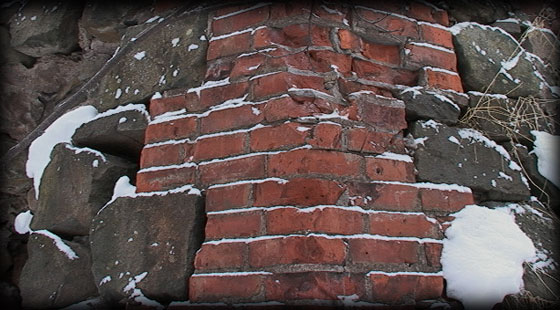 One application we don't find bricks used around the Keweenaw is in house construction. While within many other areas of the country can be found substantial amounts of brick houses and buildings – it never seemed to catch on here. We can count on our one hand the amount of brick houses and buildings that are to be found in the Calumet area, and even less further north on the peninsula. Some of this is sure to be related to the boom and bust nature of a mining settlement, as well as the availability of large quantities of wood.