Calumet and Laurium are geographical close enough to be considered one town but were light years apart in terms of character. While Calumet consisted of miners, railroad workers and the like; Laurium housed the upper crust of the Copper Country. Here lived the shopkeepers, mine captains, railroad owners, and millionaires. While Calumet was surrounded by rows of small homogeneous mine houses built by mine companies; Laurium's tree-lined streets consisted of victorian houses and expansive mansions built by renown architects and designers. The difference was night and day.
Time, however, was not kind to Laurium. While Calumet managed to cling to life for decades and now experiences a resurgence thanks to the national park; Laurium simply faded away. Now mostly empty and decaying storefronts and buildings remain along Laurium's business district. There are reminders of Laurium's more opulent past however. One of these is the First National Bank building sitting at the villages front door.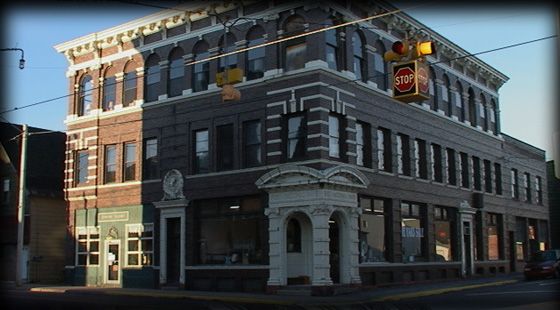 One of the more unique buildings built around Calumet, this once grand bank looks like nothing else around. The deep red sandstones and copper accents of the era were ignored in favor of maroon bricked and ivory ornamented jewel. While time has not been kind, its elegance and distinctiveness still catches your eye. Take a moment and follow me on a little tour.