Getting the copper out from the underground is only the first step in the copper production process. The copper that leaves the mine is encased in a tomb of igneous rock, which needs to be removed. This process is carried out at the stamp mill. Copper rock removed from mines was shipped to numerous stamp mills scattered across the Keweenaw. Each mine would have it's own stamp mill, such as the Mohawk Mill at Gay.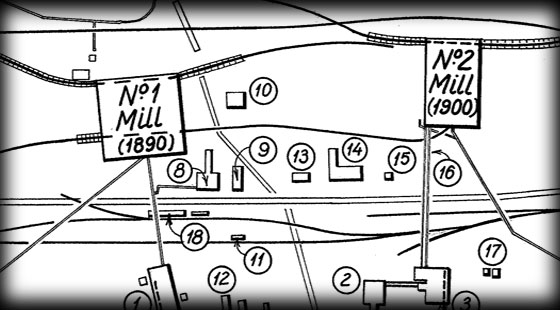 These mills couldn't just be built anywhere. If they could, most mines would have saved some money and built them next to their mines. However, stamp mills needed two things that a mine site could not provide. First, stamp mills needed water and lots of it. Second, stamp mills needed a place to dump the large amount of waste they created – known as stamp sand. In the case of the Keweenaw, this meant only one thing. Stamp mills had to be built on large bodies of water.
When mines were small and production was low, mines could afford to build small stamp mills on lakes or rivers. Mine companies dammed up rivers to create artificial lakes to fill their water needs, like at Boston or Redridge. They then dumped the waste in the surrounding forest or swamp, like they did at Copper Falls. But soon these small facilities could no longer meet the demands of large production mines, the places to dump stamp sand were becoming harder to come by. It was time for larger bodies of water… much larger.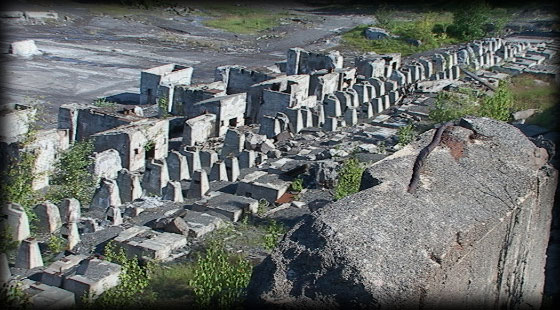 This is why most stamp mills in the copper country are found in one of two places. The first is along the shores of Torch Lake. This lake was the perfect fit fore companies like C&H and Quincy, for the very deep waters of the lake (100 ft or more in places) provided plenty of room for these companies substantial stamp sand production. The second preferred spot is along Lake Superior itself, as the Mohawk mine elected to place their facility. Not only is the storage capacity for stamp sand unending, the lake would facilitate the removal of the sands by washing them away naturally. (or so you would think) In the end, over fifteen of these facilities would be built along the Keweenaw shores. They would process over 8 billion pounds of copper and deposit in Torch Lake alone over 200 million tons of stamp sand. (Filling approximately 20% of the lakes volume)