How do you find an abandoned copper mine? You look for the poor rock pile of course. Like we did here in Osceola, coming across a poor rock pile is a good sign that further ruins are nearby. Keweenaw mine companies didn't waste any time or money in the removing of the waste rock from a mine. They quickly brought it to the surface and dumped it at the first opportunity – in most cases right next door to the shaft. If you find a poor rock pile, look around. A mineshaft and ruins are not too far away.
Poor rock piles also serve another important purpose. They help in figuring out what shaft you are currently exploring. Mines were worked from a number of shafts – deep holes from which the underground was accessed. There were always numbered, usually in a sequential manner. Mines opened a first shaft – known as Shaft #1 – and then opened sequential shafts further down the lode as needed. (#2, #3, etc). The shafts were always in line along the lode, and were numbered either north to south or south to north. And which each shaft, there was a corresponding poor rock pile.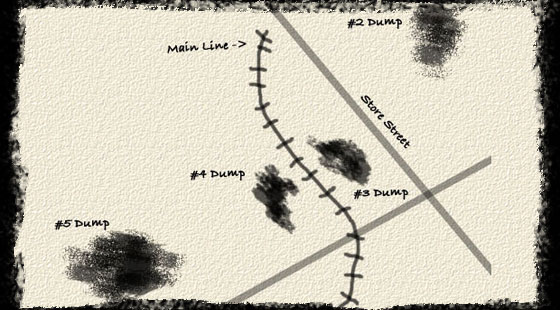 When we first came across the poor rock dumps of the Osceola mine, we didn't know which shafts we were at. Although the two rock piles were very close together, the fact that an established rail line separated them made us think that they were in fact two separate piles, from two neighboring shafts. The next question was what shafts were they?
As we do often here at Copper Country Explorer, we needed to check out a map of the area to find out. Now of course they don't mark shafts on maps, but topographical maps will often mark rock piles. So looking at the topographical map of the area you can count six distinct rock piles. That would make the two piles the third and fourth shafts. The next question is which one is three and which one is four. This one was made easy for us, since the shaft on the northeast side is marked with a marker as the #3. This is because it was the site of a fire that killed 30 miners. ( the Osceola Mine Fire ) Therefore, the rock piles were #3 to the left, and #4 to the right. machinery